Medium is a free and open online publishing platform, founded by Twitter co-founder Evan Williams in August 2012. It is designed to facilitate and emphasize the writing of longer posts or articles, as compared to Twitter's focus on brief, concise messages.
Medium is a space where anyone can share their ideas and stories and has grown into a diverse community of writers, journalists, experts, and enthusiasts. It's a platform where people can write about any topic they're passionate about, from personal experiences to expert advice, investigative journalism to thought leadership.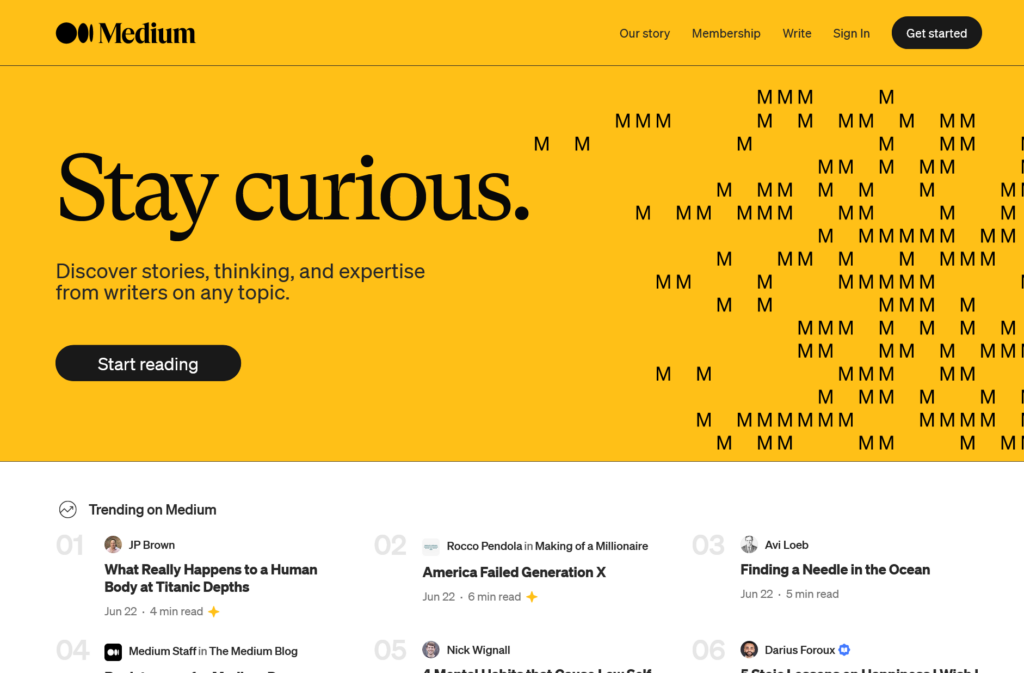 While anyone can read a limited number of articles for free, Medium also offers a membership program. For a monthly or annual fee, Medium members get unlimited access to all content on the platform.
Over the years, Medium has also introduced several monetization options for its writers, including the Medium Partner Program, which allows writers to earn money based on how much engagement their articles receive from Medium members.
Why is Medium Popular with Writers?
Medium is popular with writers for several reasons:
Reach and Exposure: Medium's large and engaged user base can help writers reach a much broader audience than they might on their own personal blogs or websites.
Ease of Use: Medium's platform is simple and intuitive. It offers a clean, distraction-free writing interface, making it easy for writers to focus on their words. Its rich text editor supports images, videos, embeds, and other features to create engaging, multimedia content.
Community: Medium has a vibrant community of writers and readers. It fosters an environment for thoughtful discussion, constructive feedback, and idea exchange.
Curation and Distribution: Medium's algorithms and human curators help distribute articles to interested readers based on the topics they follow. This feature increases the chances of writers' work being discovered and read.
Monetization: Through the Medium Partner Program, writers can earn money based on the engagement their articles receive (claps, reading time, etc.) from Medium members. This provides a financial incentive for writers to create high-quality, engaging content.
Publication and Networking Opportunities: Writers can submit their articles to various publications on Medium. These publications typically have a large number of followers, providing writers an opportunity to further increase their exposure.
Freedom of Expression: Medium allows writers to express their ideas on a wide range of topics. It provides a platform for diverse voices and stories, which can lead to richer content for readers and increased visibility for writers.
How Can Writers Make Money on Medium?
Writers can make money on Medium through the Medium Partner Program. Here's how it works:
Join the Medium Partner Program: Any writer with a Medium account can join the Partner Program. There are no minimum follower or post requirements to join.
Write and Publish: Write your stories and publish them on Medium. You can choose to write about almost any topic. You can publish these stories either on your profile or submit them to Medium's various publications for wider reach.
Put Your Story Behind the Paywall: When publishing a story, you have the option to make it available to Medium members only, essentially putting it behind a paywall. Only the stories that are behind the paywall are eligible to earn money.
Earn Based on Member Engagement: Once your story is behind the paywall, you earn money based on how much Medium members engage with your work. The more members read and interact (like clapping) with your story, the more money you earn. The amount you make depends on the proportion of a member's monthly reading time they spend on your story.
Monthly Payouts: Medium calculates your earnings and pays out monthly. You can receive your earnings through Stripe, an online payment processing platform.
Note: The Medium Partner Program is not available in all countries, and the earnings can vary widely. Some writers earn a substantial income on Medium, but many others earn much less. Success on Medium, like many other platforms, requires quality content, consistency, and understanding how to engage with the Medium community effectively.
My Personal Experience with Medium
I have been writing on Medium since 2018, and it has truly transformed my blogging journey. As an aspiring writer, finding a platform that is easy to use, encourages creativity, and offers an opportunity to reach a global audience was crucial for me, and Medium has delivered on all these fronts.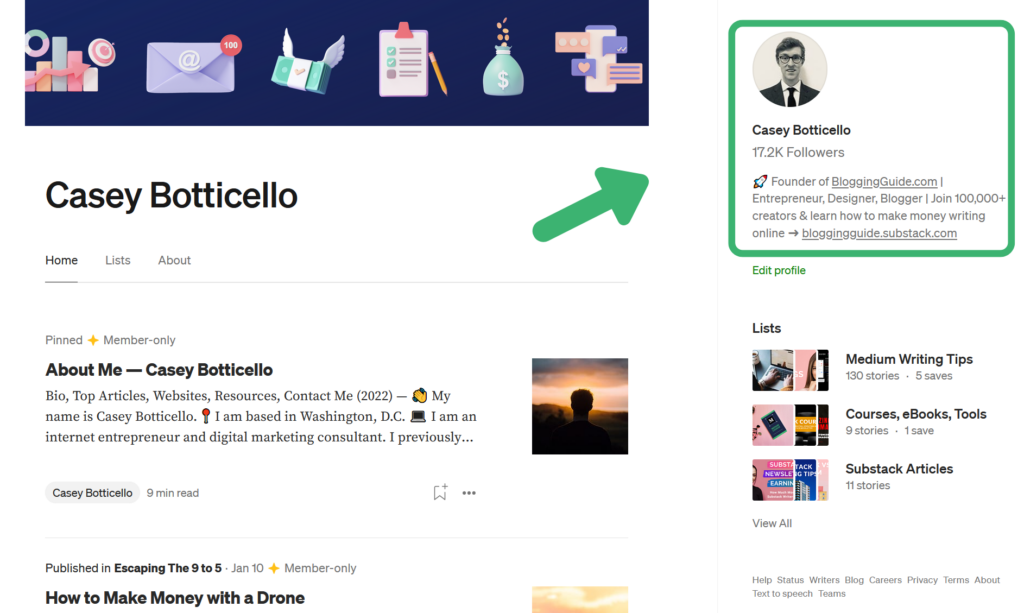 Even after all these years, what strikes me most about Medium is its clean and minimalist interface. The focus is solely on the content, free from distracting sidebars, pop-ups, or excessive ads. The writing editor is an absolute joy to use, offering just the right balance of formatting options without overwhelming the writing process.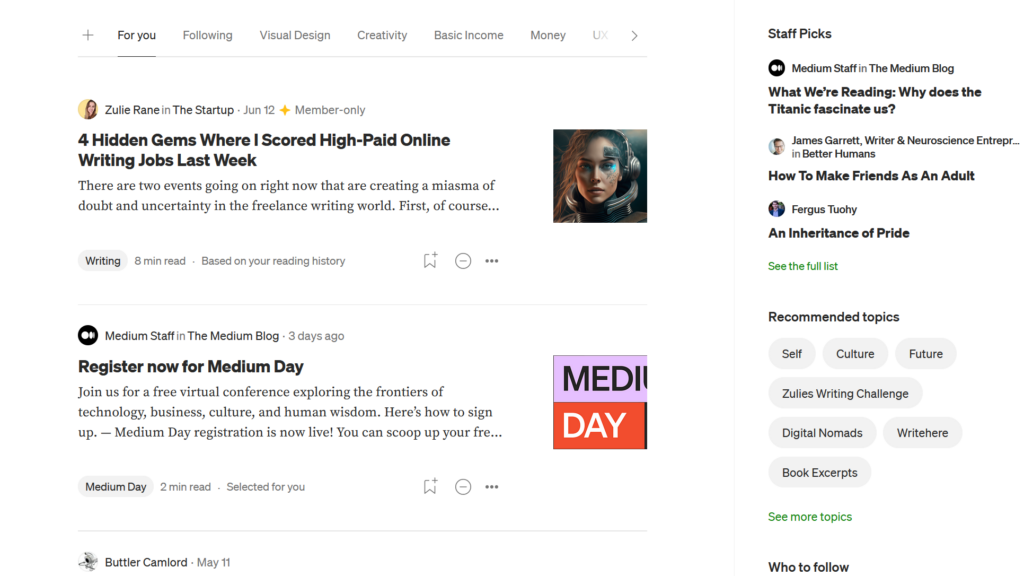 But the real magic of Medium lies in its community. I have found Medium to be a place of thoughtful conversation, intellectual stimulation, and constructive feedback. I am constantly discovering and learning from writers across a wide range of disciplines, and that cross-pollination of ideas is invaluable.
As a member of the Medium Partner Program, I've also been able to earn money from my writing. The earnings can fluctuate, but it's empowering to know that the effort I put into crafting my articles can lead to tangible rewards. It's less about getting rich and more about the affirmation that people value and engage with what I write.
But still, I'd be lying if I said getting paid for my writing wasn't a major incentive to keep going! Making money online is hard. Making money writing online, whether it's through a platform like Medium, or through your own self hosted blog, is very hard.
So when I see my monthly Medium earnings, it's definitely a mood booster!

What's more, Medium's curation and distribution system ensures that my stories have the potential to be seen by thousands of readers. I remember the excitement of having one of my articles picked up by a large publication, resulting in a surge of views, comments, and followers.
Medium isn't just a platform for me, it's a gateway into a world where my words have weight and can make an impact. It's a place where I have grown, not just as a writer, but also as a reader and a thinker. For anyone looking to write, to express, to share, and to learn, I cannot recommend Medium enough. It truly is a writer's paradise!
Final Thoughts
Medium continues to be a great platform for creators to monetize their online writing! If you want to learn more about Medium, check out the free content on our blog! If you are still in need of more detailed strategies for making money with Medium, you can also check out my Medium course.